Our company attend the 123th Canton Fair in Guangzhou- ISUZU fire truck and Dongfeng Compactor garbage truck
Our company attend the 123th Canton Fair in Guangzhou, from June 13th to 20th, totally one week day display time. what we showed on the Canton Fair is the ISUZU Fire Fighting Truck, Dongfeng duolika compactor Garbage Truck 12cbms and the Dongfeng Tianjing Sweeper Truck with sweeper and water cleaning functions.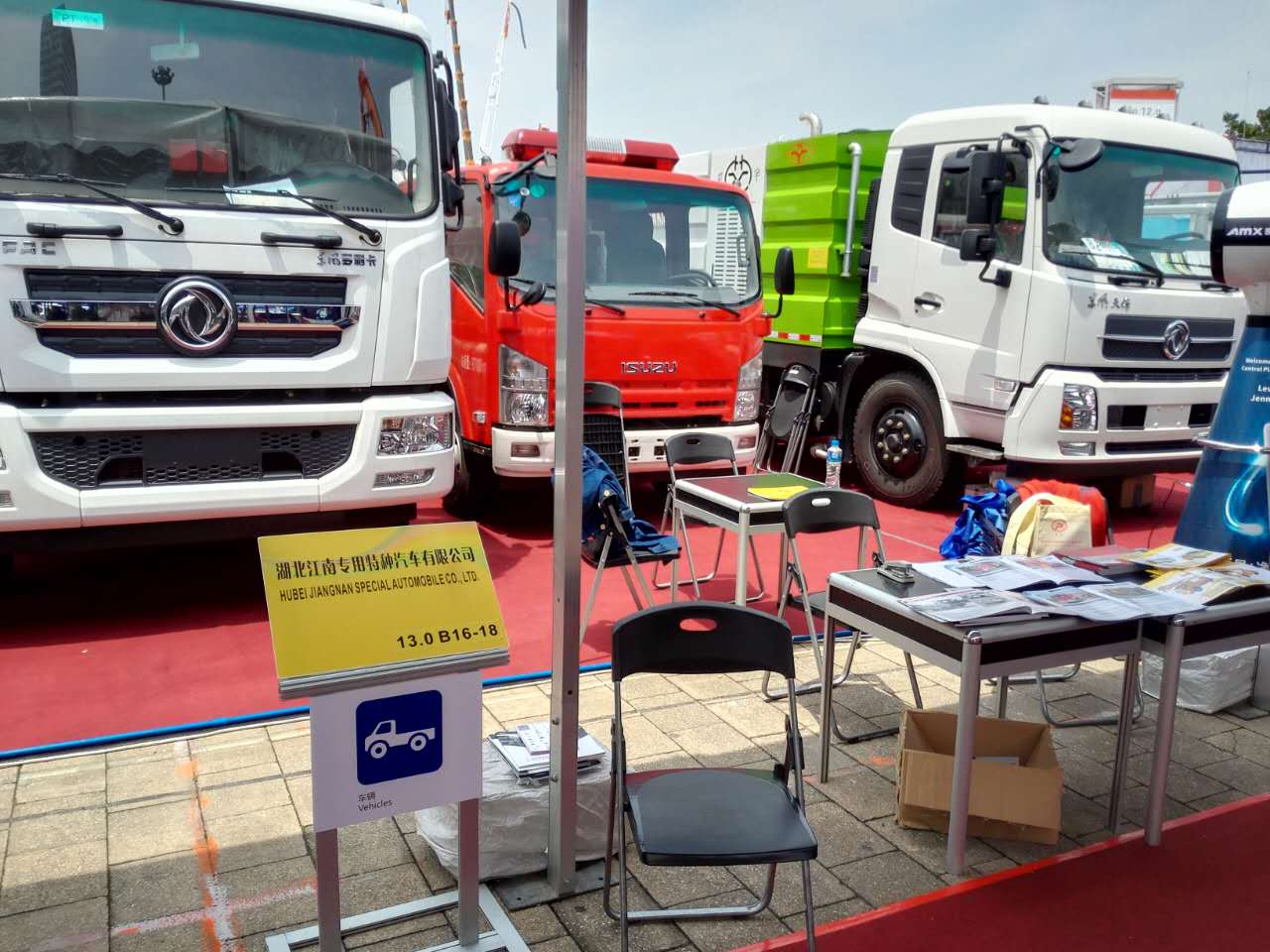 Except the above special vehicles, our company can provide over 300+ different kind special vehicles, like below:
Sanitary Truck
Water Spray Truck/ Liquid Waste Disposal Truck/ Sewage Vacuum Truck/ Sewer Jetting Truck/ Road Jetting Truck/ Combined Jet Vacuum Truck/ Road Sweeper Truck/ Road Washing Truck

Garbage Truck
Compactor Garbage Truck/ Skip Loader Truck/ Garbage Tipper Truck / Hook Loader Truck/ Side Loader Truck

Civic Utility Truck
Aerial Platform Truck/ Fire Fighting Truck/ Fire Water Tank Truck/ Road Wrecker Truck / Power Van Service Truck/ Service&Maintenance Truck

Construction Truck
Concrete Mixer Truck/ Truck Mounted Crane/ Mini Dumper/ Dump Truck / Bulk Cement Truck/ Asphalt Distributor Truck/ Flatbed Truck

Van Truck
LED Truck/ Mobile Vending Truck/ Van Truck/ Refrigerator Truck/ Anti-explosion Truck/ Cash Truck/ Medical Waste Collector/ Show Truck

Tractor Truck
4x2 Tractor/ 6x2, 6x4 Tractor/4x4, 6x6 Tractor

Tanker Semi-Trailer
Aluminium Tanker Semi-Trailer/ Fuel Tanker Semi-Trailer/ LPG Tanker Semi-Trailer/ Chemical Liquid Semi-Trailer/ Water Tanker Semi-Trailer/ Asphalt Semi-Trailer/ Bulk Powder Semi-Trailer/ Sewage Vacuum Semi-Trailer

Other Semi-Trailer
Flatbed Semi-Trailer/ Low Bed Semi-Trailer/ Skeleton Semi-Trailer/ Van Semi-Trailer/ Tipping Semi-Trailer

Trailer
Fuel Tanker Trailer/ Water Tanker Trailer/ Cargo Trailer

Off- Road Truck (AWD)
4X4 Special Vehicle/ 6X6 Special Vehicle/ 8X8 Special Vehicle

Multi-Purpose Vehicle
Water Bowser + Vacuum/ Water Bowser + Crane
And our company worked with a lot of chassis manufacturer, likes IVECO, MAN, STYER brand chassis from Europe, ISUZU, Hino brand chassis from Japanse, and Chinese brand Dongfeng, Sinotruk howo, FAW, JMC, JAC, Foton etc.... so we can meet almost all your requirement. If you are looking for special vehicle, we do believe we will be your best choice.
Send us email please: trucksmfg @ hotmail.com